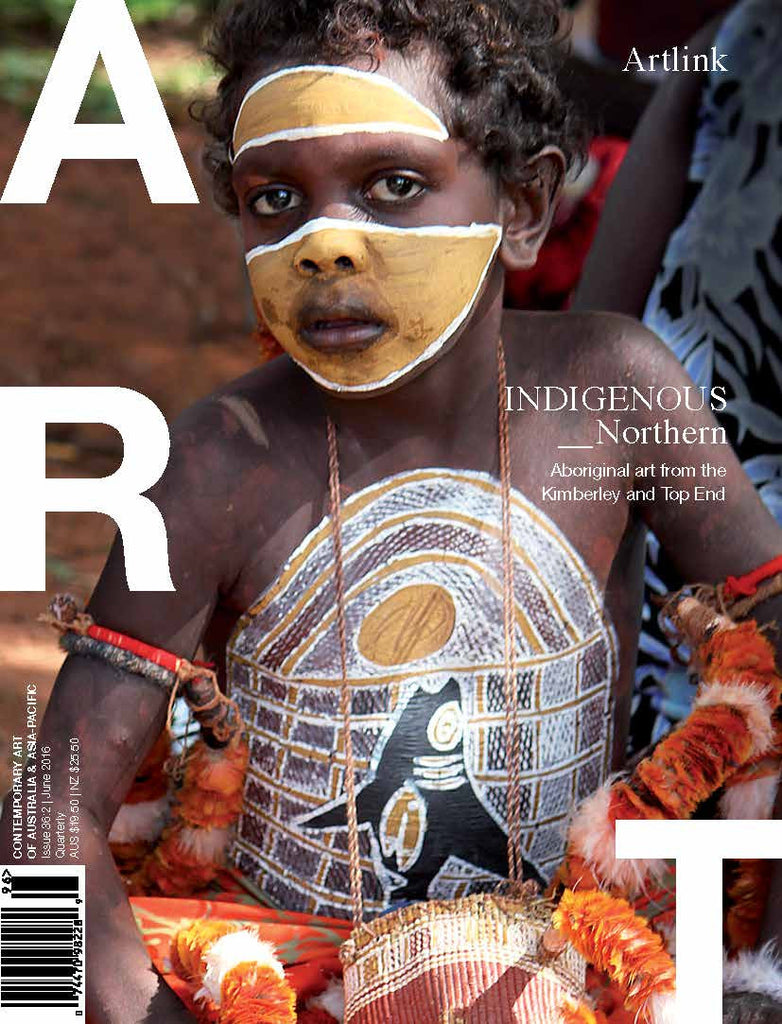 Issue 36:2 | June 2016 | INDIGENOUS Northern_Aboriginal art from the Kimberley and Top End
The 2016 annual Indigenous edition presents in-depth perspectives of artists and custodians of traditional knowledge living in regional and remote communities and homelands of the Northern Territory and Western Australia. This edition has been commissioned by the Arnhem, Northern and Kimberley Artists (ANKA) Aboriginal Corporation, representing Aboriginal artists and arts-workers from 48 remote art centres in northern Australia.
Feature essays include:
Revealed 2015 symposium keynote address: We are a sovereign people__ by Franchesca Cubillo | The land and sea can't talk; We have to talk for them__Djambawa Marawili AM and Annette Kogolo with Christina Balcombe Davidson on collective painting projects that support land and sea rights claims | A short history of Yolngu activist art__Will Stubbs on acts of art in the 2015 Istanbul Biennial | Tiwi now__Maurice O'Riordan on recent Tiwi art-related news | Warmun Arts. You got a story?__Anna Crane, Frances Kofod and Alana Hunt on language and the image in Gija art | Kabimbebeme: It really pops!__Dan Kennedy on some Kunwinjku art terminology | The rock art of Injalak__by Felicity Wright, Melissa Marshall, Garry Djorlom, Christina Djorlom and Roland Burrunali | Two laws protecting Kimberley rock art__Rosita Holmes with Rona Charles and the role of law in preserving sacred sites | Design on country: Printing textiles in Indigenous art centres__by Raylene Bonson, Maxine Charlie, Gracie Kumbi, Isaiah Nagurrgurrba and Vivian Warlapinni with Frances Grant and Belinda Foster | The Mulka Project__Wukun Wanaambi and Ishmael Marika on the digital archive connecting Yolngu people of north-east Arnhem Land | Mobile phone remix: Miyarrka Media__Paul Gurrumuruwuy with Jennifer Deger on a Yolngu art of digital connection.
Artist profiles on Ngarralja Tommy May, Regina Pilawuk Wilson, Gunybi Ganambarr, Cornelia Tipyuamantumirri, Kieren Karritpul, Jonathon Saunders, Jacky Green, Miriam Charlie and Jujuka Dolly Snell
---
Share this Product
---
More from this collection