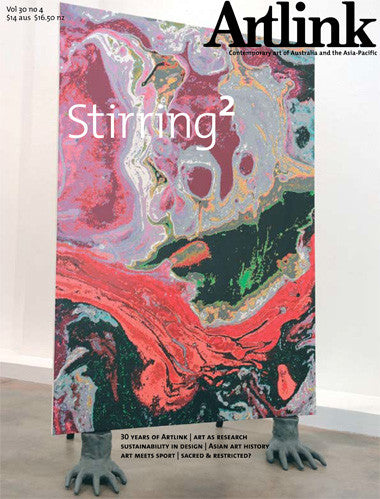 Issue 30:4 | December 2010 | Stirring II
Stirring II
Substantial essays asking questions about: the effect of the 'art as research' model in our universities, design and art for climate change, art and sport - odd bedfellows?, Australia's 'moat complex', identifying secret sacred Indigenous material, colour, sense impressions and 'theory', and welcoming a new museum of Chinese art in Sydney.
Other content: image based profiles of Shen Shaomin, Ariel Hassan, Fiona MacDonald, twelve new art books reviewed, thirty years in the business of contemporary Australian publishing - where it has been and where it is going, 'Exposed' at the Tate Gallery and the Liverpool Biennial reviewed.
Authors include: Jane Goodall, Kevin Murray, Alison Carroll, Jo Higgins, Wu Hung, Felicity Fenner, Djon Mundine, Catriona Moore, Peter Hill, Donald Brook.
---
Share this Product
---
More from this collection